Intensive Care Equipment Medical Infant Neonatal Incubator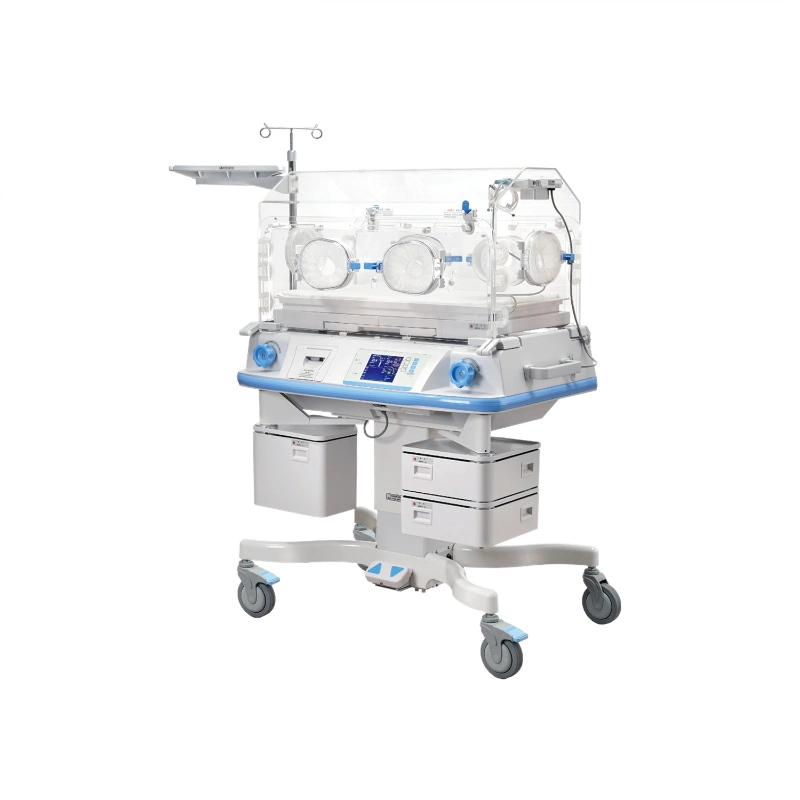 Brief Introduction

:
Two control modes: Air mode and Baby mode controlled
by micro-computer;
The information can be stored, checked and indicated by
the LCD display screen;
Humidity and Oxygen concentration level display and servo
control system;
">37°C"temperature set function;
The air circulation system with outlet in both front and back;
X-ray cassette under the bassinet;
Embedded integrated sensor module, integrated water
reservoir in the shape of drawer;
Inclination of bassinet is adjustable;
The height of whole unit can be adjusted;
Multiple failure alarm indications;
RS-232 connector for data output;
Low noise DC motor.
Standard Configuration

:
Hood, Main body, Vertical height adjustment stand
(VHA stand), Controller, I.V. Pole and Shelf.
Optional Configuration

:
Weighing system, Monitor shelf and Disposable skin
temperature sensor.
Intensive Care Equipment Medical Infant Neonatal Incubator
Specification:
Product name
Intensive Care Equipment Medical Infant Neonatal Incubator

Control Mode

Air mode and Baby mode controlled by micro-

computer

Air temperature control range

25°C - 37°C(Override mode 37°C-39°C)

Baby temperature control range

34°C- -37°C(Override mode 37-38°C)

Accuracy of skin temperature sensor

±0.2°C

Temperature uniformity

≤0.8°C(mattress is on the horizontal position)

Inclination of the bassinet

±8°

Noise inside hood

≤45dB(A)

Failure alarm

over-temperature alarm, temperature

deviation

alarm, sensor alarm, motor fan failed alarm, power failure

alarm

, sensor box position alarm, tank position alarm, system alarm

and

so on.

Humidity control range

0%RH~90%RH

Accuracy of humidity display

±5%

RH(environment temperature is




25°C, environment humidity is 45%RH±5%RH)

Control range of oxygen concentration

20%~60%

Accuracy of oxygen

control concentration

±4%
Intensive Care Equipment Medical Infant Neonatal Incubator Product Packaging:
Package: Main body and Cabinet are packed into two cartons
Dimension (Main body): 1110mm x 710mm x 888mm
(Cabinet): 1029mm x 697mm x 826mm
Gross Weight (Main body): 70Kg
(Cabinet): 80Kg